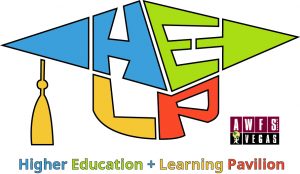 Higher Education Learning Pavilion (HELP)
New in 2017! The Higher Education Learning Pavilion ("HELP") is a dedicated area within the exhibit hall which showcases post secondary schools and training programs that support woodworking and related skills and academic fields. It also features organizations that support schools and training programs through products and services. If you are looking for ways to expand your knowledge base or connect with educational programs, please stop by!
The Education Pavilion is located in the southeast area of the Machinery Hall, behind the WCA (Woodwork Career Alliance) booth and the AWFS Fair Bookstore. Find us on the floor plan.
THANK YOU TO OUR 2017 EDUCATION PAVILION EXHIBITORS
American Society of Furniture Designers (ASFD) (booth #10149)
Arbortech Tools USA (booth #10144)
Cerritos College (booth #10147)
CreateAskate.org – visit the CreateAskate booth for live skateboard build demonstrations throughout the show! (booth #10249)
Electosoft Consultec AB (booth #10045)
The MiLL (Manufacturing Industry Learning Labs) (booth #10145)
Peyton Woods Manufacturing and (booth #10145)
Pittsburg State University (booth #10049)
Purdue University (booth #10344)
SigmaTek Systems LLC (booth #10047)
SCATS Nevada OSHA (booth #10245)
SkillsUSA (booth #10347)
STEM Guitar Project/Guitarbuilding.org and Sinclair Community College (booth #10044)
TallWood Design Institute, Oregon State University (booth #10247)
US Environmental Protection Agency (EPA) (booth #10244)
A Workshop of Our Own (WOO) (booth #10346)