Photos from the 2013 WorldSkills Cabinetmaking Qualifying Trial are here!
Exhibitors: be a part of the winning team…
SkillsUSA World Team!
Your products can be used by SkillsUSA national top-scoring cabinetmakers during the AWFS Fair at the WorldSkills Cabinetmaking Qualifying Trial!
As a sponsor of this event at the AWFS Fair, you can:
Put your products in the hands of highly-trained student cabinetmakers who will soon be members of the industry
Demonstrate your products in a cabinet shop environment on the show floor
Receive recognition and promotion as a AWFS Fair feature sponsor
Align your organization with SkillsUSA, the national leader in supporting skilled trades training
What is the WorldSkills Cabinetmaking Qualifying Trial?
The top scoring SkillsUSA national cabinetmaking champions are invited to compete in the 2013 WorldSkills Cabinetmaking Qualifying Trial at the AWFS Fair to determine which student will represent the United States at the 2015 WorldSkills Competition in Sao Paolo, Brazil. The competitors will work in a fully-functioning 1,600 square foot cabinet shop for 27 hours on the AWFS Fair show floor (Booth #9251) to build an advanced cabinet that includes a door and a drawer box, handcut dovetail joinery, veneer, edgebanding, built-in drawer slides and hardware installation. The project plans were developed by a team of industry professionals and educators and modeled after professional drawings and the official WorldSkills competition plans. The students' projects will be scored by industry experts and the winner will be announced on Saturday, July 27 at 11:00 a.m. at the booth in a ceremony emceed by Tommy MacDonald of the PBS show Rough Cut Woodworking with Tommy Mac. The winner will then begin a rigorous two year training program to prepare for the 2015 WorldSkills competition.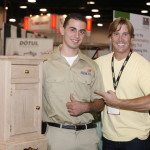 How can I become a sponsor?
We need the tools, machinery, and supplies that the students will use for the Qualifying Trial. They can be donated for use during the contest and/or as a prize, or loaned for the duration of the event and then returned to you. To become a sponsor for the WorldSkills Cabinetmaking Qualifying Trial, contact AWFS Education today: Adria Torrez adria@awfs.org or (323) 215-0311
There is also a financial sponsorship opportunity for this event, learn more here.
 In 2011, two students competed in the Cabinetmaking Qualifying Trials: 2011 National High School gold medalist Kaydee Walters of Utah and 2010 National High School gold medalist Daniel Berrios of Pennsylvania. After an intense, high-pressure three days of competition, Daniel was selected to represent the U.S. at WorldSkills 2013 in Leipzig Germany, which will take place in early July 2013. Since the 2011 Qualifying Trial, Daniel has graduated from school and is now teaching cabinetmaking while preparing for WorldSkills. In 2012, he competed in WorldSkills Americas in Brazil, where he won Gold in the Cabinetmaking contest. See images from the 2011 Cabinetmaking Trial.
Thank you to the 2013 WorldSkills Cabinetmaking Qualifying Trial sponsors:

SkillsUSA is a national nonprofit organization of students, teachers and industry, working together to ensure America has a skilled workforce. SkillsUSA helps high school and college students enrolled in career and technical education programs to excel by teaching employability skills such as communication, problem solving and leadership in conjunction with their trade, technical and service occupations skills. The association's annual membership exceeds 300,000 students and instructors in more than 3,800 schools and colleges in every state, three territories and the District of Columbia.  More than 1,100 national corporations, trade associations, businesses and labor unions support SkillsUSA.
Over its 60-year history, WorldSkills International (formerly known as the "Skill Olympics") has come to symbolize the pinnacle of excellence in vocational training. It provides a unique means of exchange and comparison of world-class competency standards in the industrial trades and service sectors of the global economy. The continued growth of WorldSkills International attests to the fact that traditional trade and craft skills along with the newer technology multi-skilled occupations makes an essential contribution to the economic and social well being of people everywhere.